HexaGroup developed a multi-market, multi-lingual, multi-audience, and multi-platform O&G trade show solution.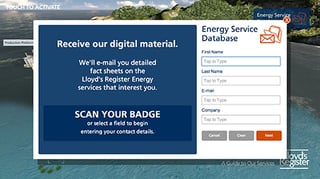 Looking to enhance their engagement in trade shows and improve lead collection, Lloyd's Register Energy needed a marketing tool that could connect with their customers and serve their product offering in any given situation.
Built on the HexaGroup "Chameleon" platform, the Lloyd's Register Energy Ion is a highly flexible interactive sales presentation and collateral delivery platform that adapts to a variety of touchscreen devices. A trade show marketing solution, it premiered as an interactive tool at the 2013 Offshore Technology Conference (OTC) in Houston, and has since been used at O&G events around the world where it:
Draws trade show booth traffic and leads to productive conversations
Collects visitor information and tracks interaction, providing customer insight
Serves as a gateway into all of the company's collateral and pushes materials digitally to interested customers
Acts as a lead generation tool, generating nearly 3,000 leads at recent oil and gas conferences
Learn more about how HexaGroup's "Chameleon" platform helped Lloyd's Register Energy connect trade show visitors with their product offering. Download the case study!